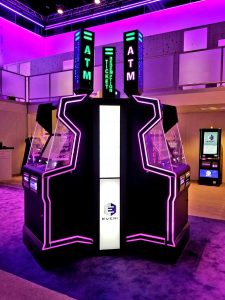 Discover seamless banking kiosk solutions with a sought-after company in the United States. Nevatronix is a trusted manufacturer of high quality and reliable ATM machines for the Gaming Industry (Casinos) and the manufacturer of the first Bitcoin ATM.
It enables seamless integration of hardware and software to generate an interactive digital environment for general users to avail plethora of benefits – shortened transaction time, swift access, and multiple transactions at real time.
Withdraw cash easily or just fill in your public utility bill account number to pay the bills without spending much time. This and lot more with our elaborative indoor and outdoor kiosk solutions.
Interested? Give us a call (+1 888 816 7836) or send us a mail (sales@nevatronix.com) to know more and for further discussions.
Automated Payment Kiosk with Benchmark Innovation
As a premier provider of casino and bitcoin ATMs, Nevatronix has established a new set of standards in this field by loading its ATMs with most innovative features and supporting them post sale.
A known manufacturer of ATMs, Nevatronix ATMs are prototyped, designed, and made in USA. All our products are built from scratch in our state-of-the-art manufacturing facility.
Trust us for we have carved a niche to gain the trust of some of the renowned companies across the world. Have a look at our esteemed list of partners to get a better idea about our scope of our  banking kiosk solutions.
Get in touch with our experts to have a better insight into our in-house capabilities and technologies that are integral for the success and growth of the company. Contact us now!
Interactive Interface For Cash Payment Kiosk
We believe people prefer convenience whilst interacting with the touch-screen of the kiosks. It has encouraged us to keep it simple yet usable with our bouquet of features and applications for bank customers
Our ATMs are known for their trendy designs and contemporary looks which reduces their total cost of ownership and eases the upgrade process. Nevatronix ATMs are easy to get serviced with lowest amount of downtime as compared to any other ATM in its group.
Trust Our Proficient Team
Our friendly and skilled tech support team is always ready to help you out with any issues and would work with you to resolve any issue in least time. However, our engineering team has designed these ATMs in a way that you wouldn't need to call-in for service more than once or twice in a year.
Call us for customized  banking kiosk solutions:
Things are fast changing across the banking industry, and has compelled us to embrace many . changes that fit in with your operating business model.
We can also add other functionalities such as card readers, cash receipts and few more to cater to the precise requirements. However, if you wish to incorporate any other dynamic features, functions or technology, share your vital inputs with our specialists to devise some feasible banking kiosk solutions.
Do not hesitate any further and give us a call (+1 888 816 7836) or send us a mail (sales@nevatronix.com) to experience our versatile banking kiosk solutions.