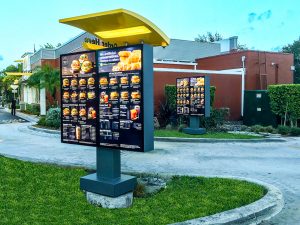 Are you hunting for an outdoor kiosk to promote products or services? You are spot on with your choice. Nevatronix offers dynamic and digital solutions in outdoor kiosks with plethora of design options with ensured visibility and ability to withstand harsh climatic conditions.
Our digital menu boards can be customized by brands and support both digital and print modes. All of our menus adhere to the commercial standards established by National Electrical Manufacturers Association (NEMA) and can be availed in landscape as well as portrait modes.
Designed to operate 24/7 in different yet uncertain environment, our outdoor kiosk is composed of durable stainless steel, readable touch screen and a commercial outdoor computer system. All this and more just to ensure that the outdoor kiosk can weather excruciating heat and wind whilst maintain continued services.
With easy deployment and low maintenance, you can pick digital outdoor kiosk of your choice that fits in your compelling business needs. You can explore our retail kiosk to get an insight into the dynamic features we offer to different industry verticals.
Spellbound yourself with extensive variety offered in kiosks for banks, health, restaurants, movie theatres and more.  With immaculate designs, features and other functions, our outdoor kiosks are bound to click with businesses of any size and nature.
Get in touch with our experts to decide the outdoor kiosk that can plug in lack of your promotional strategies and kick off revenue generation.  Contact us now!
Outdoor Kiosk Marked With Exceptional Designs & Manufacturing
Our designing and engineering team work hand-in-hand to create boards that surpass all established benchmarks of quality and longevity. Our outdoor kiosk can withstand harshest climatic conditions, these are water-proof and condensation resistant.
Also, our digital outdoor menu boards come with hidden hinges as well as security locks for better protection. If you have any special requirement regarding design or dimensions, our designing team will sit with you to provide you with exactly what you need.
Alternatively, you can check out our indoor kiosk to further expand and strengthen your business strategies to gain a competitive edge.
All system interfaces with POS control system can easily accommodate all types of video and photo files. You can easily change the content with USB drive and remote controlled access.
We are there for you!
We are open to customized kiosk solutions for your brand promotion. If you seek any more information on an outdoor kiosk, please feel free to give us a call (+1 888 816 7836) or send us a mail (sales@nevatronix.com).
We would be more than happy to assist you in any way deemed possible to suffice the purpose.